Functional Fitness For Ladies
Join The Movement

We get it.  Making it to the gym every day isn't always possible.  Sometimes cost, schedules, and locations are HUGE obstacles.  We've developed a plan to keep you moving on days the gym just isn't going to happen, or it's just not an option in your area.  Our community of supportive and caring women is just what you've been looking for to take your LIFE to the next level. We'd love to connect with you and help you reach your goals.
We believe functional fitness is for everyone, we just prefer it with a community of ladies, because there is nothing better than a strong & confident woman.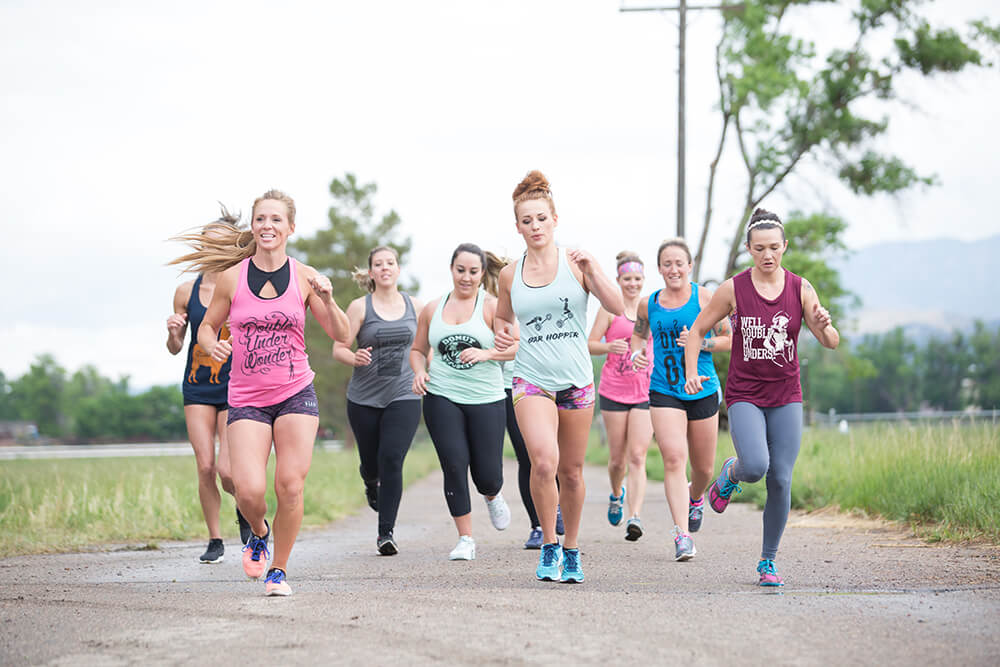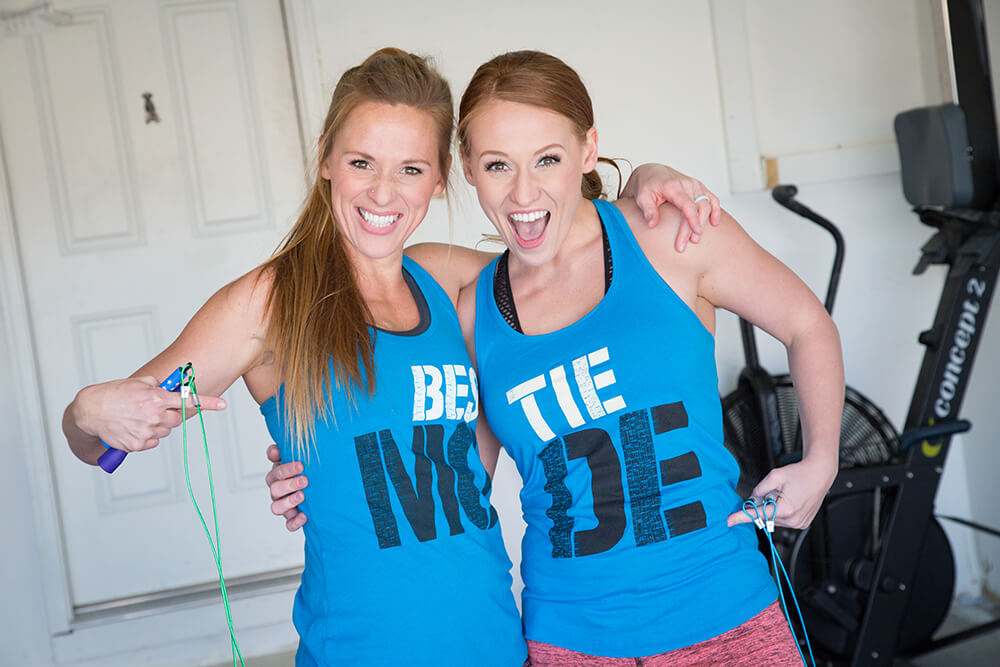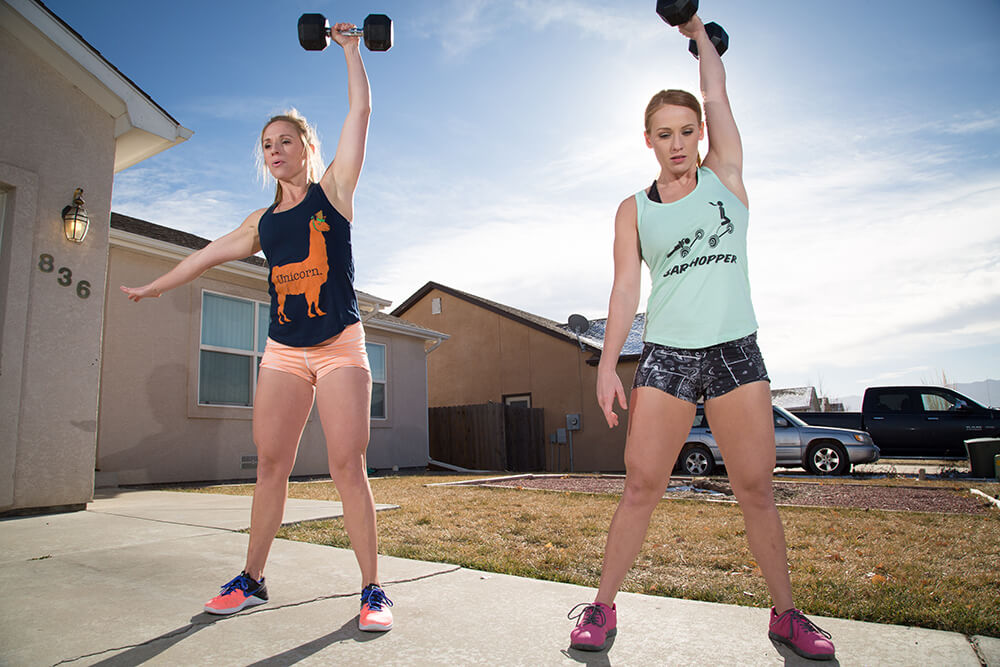 Featured Programs
Kick Ass Online Training Community
Incredible Group of Ladies at FIT 101 HQ
High Intensity
Training
 We love fitness. We love tough workouts. If we are going to put forth the effort of doing a workout, we want it to challenge us. We want it to push us to be fitter, faster, and stronger. We promise our workouts will give you the results you want- physically, yes…and mentally, hell yes. 
Private Facebook group
Members get access to our private group where (in addition to here), the daily workouts are posted, nutrition ideas are shared, members can interact, and you can ask us, Tiff & Tess, all your questions.  
In person classes
Maybe you're not motivated on your own. Maybe you don't have any gear at home. Maybe you just need a little vacay from your home, job, kids…and just want some ME TIME. We also offer classes in person for ladies. If you are in the area, please stop by, we'd love to meet you. First class is always free. Then pricing is as follows:
$10 drop in
$50 for 8 visit punchpass, expires 3mos after purchase
$65 monthly unlimited 
"My whole life I have HATED working out. I love it now. This is so incredibly fun. All the women that are a part of Fit 101 are just so amazing and fun!! I never thought I would like working out.
I love the example it sets for my kids too- "mommy's going to work out guys!" Showing my son that flexing muscles isn't just for boys! I love being that example. Fit 101 has changed my life in so many positive ways. I've never felt more comfortable with my body than I do right now, and that's saying a lot. I have struggled my whole life with body confidence issues. I never ever ever would have been cool with working out in a swim suit ever in my life- and I did pool workouts this summer! I think age helps, but this class is making me feel like a badass bitch of a woman and I'm loving it.
Thank you for appearing in my life and so many other women's lives!! You are doing amazing things for so many women."
"I started Fit 101 six weeks after having my second baby in Dec of 2017. I was looking for a non-judging and woman praising gym. I needed a trainer that knew personally the changes my body had gone through the past 3 years. A trainer that knew the appropriate modifications I would need to get back into my fitness goals without injury. A place that had members that were supportive of each other and I wouldn't feel insecure doing my workout in front of.
I truly have found ALL of that at Fit 101. I love the fact it is an all women gym but has an option to bring my husband to a class on co-ed evenings to have a date night!! I have made many positive connections and friends at Fit 101! I have found my fitness family and home! It's my "mama time" with or without my babies; since kids are welcome with a kid-friendly section at the gym for them to play. I'm thankful I found Fit 101!!!"
"I cannot say enough positive things about Tiff and her class. I was invited by a fellow teacher at new teacher orientation and leading up to the first class I was pretty nervous. Those fears washed away quicker than the soreness (the first class is a butt kicker!)!
I had never consistently worked out and when I did it definitely didn't involve lifting weights. I had tried a free week of CrossFit training at a gym in town and there was nothing wrong with it…except the intimidation factor. Everyone was trying to finish the workouts as fast as possible and there was a huge clock in the room.
I am not competitive by nature which has made my experience at Fit101 incredibly comfortable. Tiff goes above and beyond to ensure that every person in the class understands each movement before the workout even begins. The environment within Fit101 is the perfect combination of fun, encouraging, and challenging. Come do a bunch of burpees with her, you won't regret it!"
"At 35 years old, I was weighing in at 127 lbs. Keep in mind, I am 5'9″. I have always been very thin my whole life, which has led to being made fun of and ridiculed…… literally my whole life! I had tried everything to gain weight and look healthy. With the help of Fit 101, I am finally at a healthy weight (139), up one pant size, and look damn good. 😉
I have known Tiffany Javernick (owner of Fit 101), since I was a little girl. We were acquaintances on Facebook. I saw a post one day that she posted asking if any ladies would be interested in getting together and working out. I thought, "psssh… yeah right, I could never keep up with this fit chick!" But…. in the back of my mind, I thought maybe this was exactly what I needed. I reluctantly hit the "like" button and proceeded to comment, "Me!!!"
Little did I realize, that moment would be the day my life was going to change forever. Tiffany messaged me and ran the idea by me. I told her I would definitely come. I followed through, with a few friends of course! I definitely was not stepping into a gym alone and needed a buddy or two to show up and look ridiculous with me.
That first night, I thought to have to do push-up on a wall vertically, using 15lb dumbbells, and no way could I even attempt a pull-up; was a sign of how weak I was. Especially because now I am using 35lb dumbells, and doing real push-ups on my toes on the ground, and doing muscle-ups! But, it was not a sign of weakness at all… I was there! I was working out and becoming stronger. Showing up and facing my fears! That's not weak at all, that my friends is strength!
Here we are 14 months later, and I go to Fit 101 5-6 times a week. Not only have I gained 12 lbs of muscle, but I've gained confidence! I love who I am, and how I look! I am the healthiest I have ever been. Mind, body, and spirit. I have even competed in two Crossfit competitions! Beyond that, I have gained some of the best friends anyone could ask for. I mean, if you belong to an all womens gym, full of women who support you, encourage you, and clap for you, surely you are bound to make tight nit bonds.
I cannot say enough about this amazing gym, that has become my second home and a piece of my heaven. Tiffany and her sister, Tanessa, are two of the most inspirational, motivating, kind women you will ever meet. I thank God every day for this amazing gym, amazing owner, amazing women, and amazing muscles I never knew I could have!!"
"Fit101 is a huge blessing. I'm a stay at home, homeschooling mom to 4 busy kids. I have struggled for so long to find something that I enjoy. I use to run marathons but as I added more children to my family, the time away for training became too stressful. That's when I found Tiffany at Fit 101.
Tiffany is adorable. She is so fun and sweet and her energy is contagious! She has this way of making you push yourself and encourages you even if you have to modify the workout (which always has options for every level, it's amazing.) The workouts she programs fit perfectly into my busy schedule. Most workouts only being 20-30 minutes and leave me feeling totally exhausted but also feeling more confident and stronger than before. The workouts differ day to day and even after a really hard one that leaves me so sore the next day, the next workout always helps loosen sore muscles and targets other muscle groups as to not run into feelings of fatigue.
The online group is full of encouraging and fun ladies. Definitely feel blessed to be a part of this amazing community of like minded ladies!"
"I started Fit 101 six weeks after having my second baby in Dec of 2017. I was looking for a non-judging and
Fit 101 is changing my life-seriously. 😎I've always known I was strong, but never had the desire to commit to a gym. The culture Tiff creates at Fit 101 promotes healthy motivation & gets me to push through barriers like never before. 💞
I'm so thankful it is never about the numbers on the scale or numbers on the barbell. Fit 101 all about health & love. 💕
Health & strength is winning….not straining & self-hatred!
That's me on the left- about 2 years ago after a brutal 30 day fast – I lost 18 lbs but promptly gained it all back in about 3 months. I kept the extra weight on for about a year.
Then I got serious at Fit 101. 🙌🏼
The pic is after being consistent for 3 months, I go 3-5 days a week. Tiff and Tess have helped me to work out bad movement habits I had developed. I'm feeling better than I have in a long time.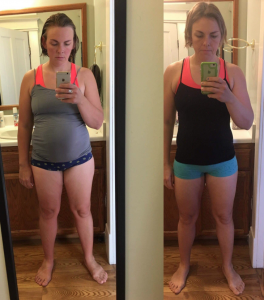 We're here to help…
Questions?
Lets Get This Party Started!